We will detail you the 5 good reasons that could decide you to join our awesome challenges  !

---
1 – Challenges for everyone
The majority of challengers represent people quite taken by a dense professional and family life, and do not necessarily have time to train like "pros".
Be sure, ur challenges are not a race, and everyone can ride at their own pace.
In addition, mid-stage supplies, assistance vehicles, massages at the end of each stage, and the team of organization will always pampering, in order to recover well for the next step. So many good reasons that make this challenge accessible!
#Foreveryone
Cyril Zaprilla (BNP Paribas) :
-Participated to the last Challenge Mont Ventoux-
"To ensure the success of this Challenge, I opted for a WTS coaching that allowed me to aim for a peak in the key period.
Thus, it was these three wonderful days of effort and personal challenge, I simply felt that I was a real privileged! I dreaded a little the 3rd stage and the rise of Ventoux, but we feel the strength of the group. And that's the strength of this test. Support is permanent: moral and physical. The smiles are not forced, they are sincere, the joys are intense because real, never feigned. The supervision is perfect … pampering with real generosity. "

---
2 -Awesome routes
Do not be afraid to say, our challenges compile the most beautiful courses that can be covered.
For example, Challenge Mont Ventoux route starts from the Principauty of Monaco to Mont Ventoux, through Les Gorges du Verdon, and the Alpes de Haute Provence.
#Roadofdreams
---
3 – You are here only to drive, without having to manage the logistics!
Let go during this Challenge, we take care of everything!
#Pampering
---
4 –

Meeting and memories anchored for ever !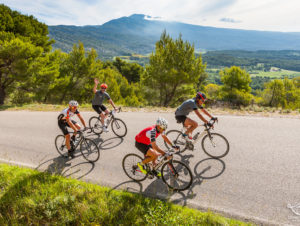 Our challenges are undeniably a human adventures.
Strong social relationships created by the situation of solidarity that emerges over the days ; but also and by necessity, a very interesting networking relationship for all CEO challengers.
Plus, you may think that you are not able to achieve the Challenge? The group effect will have the result of a multiplication of your strengths and your possibilities, and it is with great pride that you have achieved it brilliantly! The sporting challenge, mixed with human encounters (participants, staff ..), will make this challenge a wonderful sporting memory in your entrepreneurial career.

#GreatFriend/Businessship – #Exceptionalmemories

---
5 – Super Training
Riding for 3 consecutive days in a randonnee mode, is undeniably one of the best way to strengthen your cycling endurance fundamentals.
Indeed, after having done more than 3-5 days of riding,  we make you sure to improve your level (strength and performance), the perfect way for the objectives of the futur.
#ImprovementGuaranted